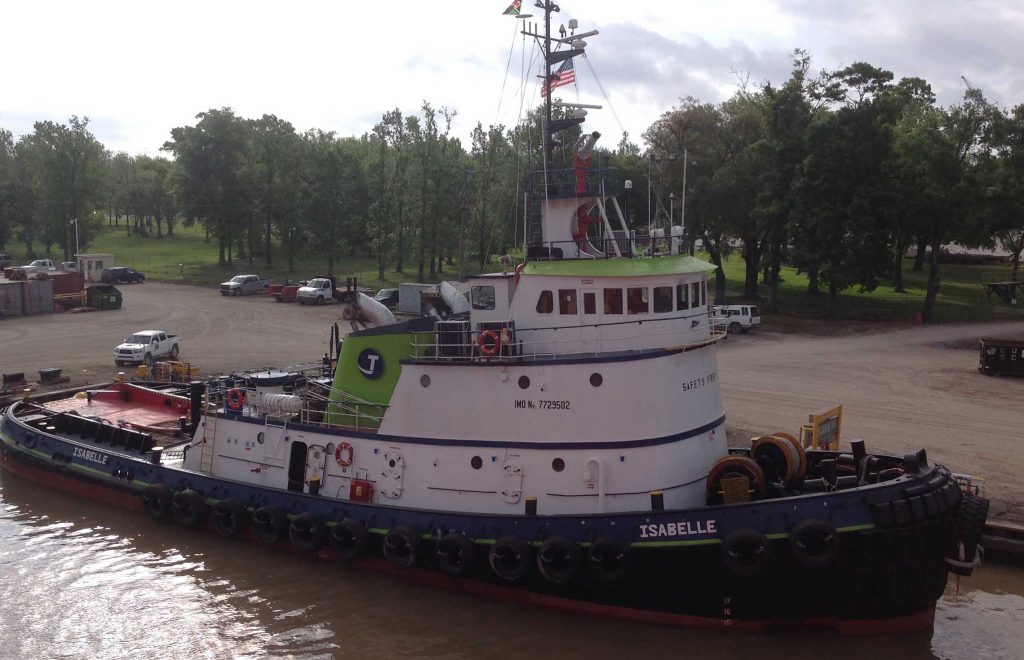 Particulars:
Year built:1978, Main Iron Works
Hull and Machinery: ABS Class + A1 + Towing Service+AMS
Official #: BN 2094
IMO#: 7729502
Radio Call Sign: A9GF
Flag: Vanuatu
Propulsion:
Main Engine: 2 x EMD 16-645-E7
Horsepower:Brake HP 5,750
Bollard Pull: 81.75 Tons
Marine Gears: 2 x Falk gear boxes
Propellers: Four-blade stainless steel
Kort Nozzles
Tug has Flanking Rudders, 2 forward of each propeller
Thrust Master Bow Thruster 250 HP
Towing Equipment:
Winch: SMATCO Double Drum Model 66 DAW200.
Waterfall type main towing and anchor-handling winch.Main towing winch with 2400' of 2-1/4" (56mm) and anchor winch with 2000' of 2-1/4" (56mm) galvanized wire.
Smith Berger Shark Jaws 200 Ton rating and Hyd Towing Pins.
10 ton line pull tugger winch next to main towing winch.
Open Stern with 100ton capacity stern roller.
Towing Hawser: Full complement, various sizes
Towing Gear: Towing shackles, wire bridles, portable running lights.
2 forward winches, each with max pull of 10,000lbs;Hydraulic disc brake, Used for barge handling, each holding 100 meters rope.
1 forward anchor windless / capstan
1500lb anchor
Dimensions:
LOA:126.0' (38.4m)
Breadth: 36.0' (10.9m)
Draft:18.5' (5.7m)
GRT: 528 tons
NRT: 158 tons
Range: 32 days towing / 60 days utility work
Berthing: 7 cabins, 9 berths

Tankage:
Diesel: 112,000 gal
Lube Oil: 1,438 gal
Potable Water: 24,000 gal
Hydraulic Oil: 707 gal
Gear Oil: 707 gal
Foam: 3,400 gal
Oil Dispersant: 2,090 gal
Radio, Navigation, Etc :
Equipped with modern electronics &
alarm systems;
Full GMDSS system; Gyro compass;
Rosepoint ECS; Satellite phone and email.
Firefighting System:
5,000 GPM , Driven by 16V-71.
Salvage Gear:
Diesel pumps: 2 x 3" trash pumps
Welding machine; 2 Line-throwing guns;