Delivery of barge Chicago Bridge from Mobile, AL to Punta Arenas, Chile
TradeWinds contracted with a global heavy-lift company to deliver a 400' x 100' barge, the "Chicago Bridge" from Mobile to Punta Arenas, Chile for a transshipment project. We worked closely with the customer in the weeks prior to departure. We loaned them our stock of Canal gear needed to fit out barges to fulfill Canal transit regulations. Tug RACHEL departed Mobile, AL on June 11, 2014 with the tow.
Once at the Canal, the tow transited smoothly and with no delays. While it is impossible to prevent delays resulting from unusual ship traffic and backlogs, due to proper planning, our tow equipment and rigging were fully approved by Canal authorities upon inspection. In this case, we got lucky with no backed-up traffic. The tug loaded up heavily on fuel and stores there, as they'd have no feasible port of call on the long voyage from Balboa to Punta Arenas.
As the tow sailed down the west coast of South America, they had to report twice daily to the Peruvian and Ecuadorian Navies according to their strict protocol. The tow arrived at the Straits of Magellan just as a major winter storm was moving in. The month of July is mid-winter in southern Chile and the local weather is notorious for being changeable and potentially violent. Both the tug captain and our management saw the system developing offshore, and the tug put on a burst of speed to make it into port. Failing to do this would have meant having to heave to with the tow and wait out the storm at sea for several days or more. The crew had to beat ice off the decks for the last day coming into port and one of the Chilean pilots even became seasick, not being used to the excess motion on tugboats.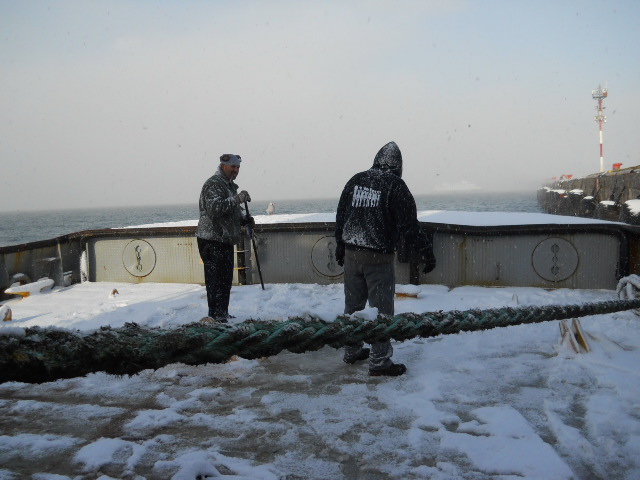 The crew of the RACHEL made a smooth handoff to the customer. A crew change was necessary after a voyage of 41 days. Three crew flew in, and after they did their handoff with outgoing crew, the three outgoing crew were to fly out. However, they were stranded for three days at the airport during the intense winter storm before they could get home. Such is the difficult life of the mariner who works on ocean tugs that make deliveries to remote corners of the world. At least when they stepped off their plane back in the USA, it was summer at home.